Birthday Celebration Bouquets
Birthdays are a great time to celebrate with a colorful balloon bouquet with a personalized greeting for that special someone. In addition to your personal message, our birthday balloon bouquets send a visual message of good cheer for all to see, delivered directly to your birthday celebrant.
V.I.P. Happy Birthday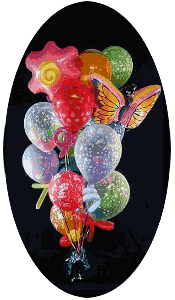 Our most popular birthday balloon bouquet. This amazing design creation has an awesome assortment of balloons creating an 8-foot-tall joyful bouquet that is sure to be remembered.
$58.80

The Cupcake Birthday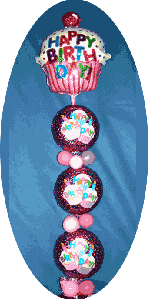 This colorful six-foot-tall giant cupcake-themed balloon bouquet is created of long-lasting Mylar® and latex balloons. It floats above a decorative base, sending joyful birthday wishes without the calories.

$44.95

Musical Happy Birthday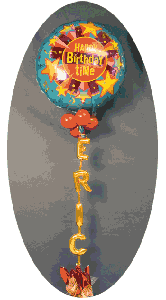 This birthday bouquet is topped by a giant Mylar® balloon that plays "Celebrate" to the lucky recipient. Your celebrant's name is spelled in the letter chain that attaches the musical balloon to its base. 
$37.33

Big Birthday Blossom Bouquet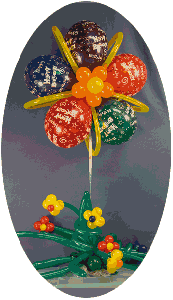 Plant lovers and those who like truly unique gifts will enjoy a gigantic, joyous birthday flower balloon bouquet created from "Happy Birthday"-emblazoned jewel color balloons floating over a balloon flower vine base.
$54.95

The Hot Air Birthday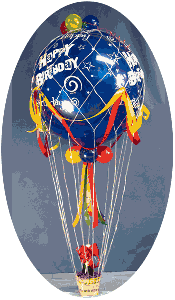 Our classic "hot-air"-themed balloon bouquet comes in the color of your choice with a bottle of Martinelli's Gold Medal™ sparkling cider in its passenger basket. A bottle of Korbel Brut™ champagne can be substituted for an additional $5.
$67.50

The Princess Heart's Delight
This hot pink birthday bouquet consists of a delightful tower of "Princess" heart balloons, a hot pink Mylar® , and pink pearlized latex collar balloons, all topped by a giant Mylar® wishing your princess a "Happy Birthday".
$52.95

New Yorker Birthday Jubilee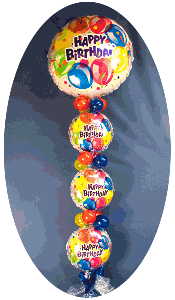 This 6-foot-tall Mylar® birthday balloon bouquet consists of a joyful 30" diameter "Happy Birthday" greeting floating above 3 smaller Mylar® greeting balloons providing a long-lasting reminder of how much you care.
$44.95

Polka Dot Birthday

A cheerful multi-colored balloon bouquet of colorful polka dot decorated balloons floating under a "Happy Birthday" greeting balloon.
$46.95

The Decade Celebration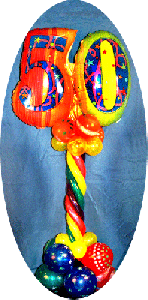 This colorful balloon creation, displaying a giant colorful Mylar® balloon with the numeral "40", "50", or "60", will put a smile on the face of anyone celebrating their decade achievement milestone.
$49.95
Big 40

Big 50


Big 60

Connie's Classic
Connie's Classic birthday balloon bouquet is sure to delight that special someone! It consists of nine 16 inch balloons with accent balloons twisted into bows. A "Happy Birthday" Mylar® balloon tops it off.
$46.60

Birthday Swirls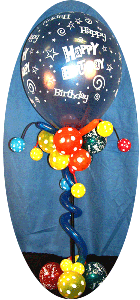 This jester-like balloon bouquet of curly-Q and fun polka dot balloons is topped by a 24 inch latex "Happy Birthday" greeting balloon.
$56.50

Birthday Bubble Bouquet
This balloon bouquet of colorful jewel-tone latex balloons imprinted with "Happy Birthday" greetings and confetti is a joyful and eye-catching way to greet your birthday celebrant. The bouquet comes with a jar of bubbles and a wand.
$47.50